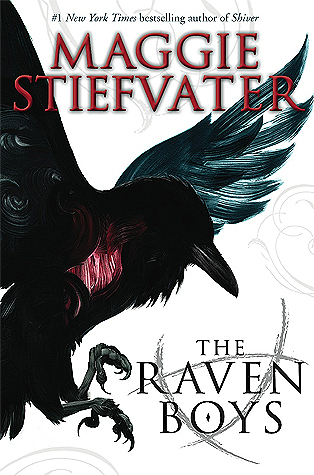 It's been a spell since I've written a review, so it felt appropriate for the first review of the year to be the first YA book. As I myself write YA. Maggie Stiefvater's The Raven Boys was the starting book for the new year. I have an affinity with ravens and so I went with it. The book is riddled with good reviews. I wish, however, I could say I loved it. I have a lot of mixed feelings about this one. But where to start?
I listen to a lot of books these days, as time can be tight but I'm a master level multitasker. I enjoyed the narrator of this book immensely and would recommend anything he reads. His narration has no barring on this review. I will definitely be seeking out other books he reads.
I wanted to like this book. I would even go so far as to say I wanted to love this book. But I have a few hang-ups. It seems to be set in real life, instead of a fantastical world. I love this, in fact, I prefer books with fantasy elements anchored in reality. But I'm bothered by the seeming lack of research on elements of the book that could have been so easily corrected. The tarot readings, in particular, bugged me a lot for this reason. This aside, the other thing which I couldn't quite shake was the way time moved. There was an immense amount of detail about one event and then a single line about something huge which probably took hours. On more than one occasion I had to go back to make sure I didn't miss anything. I was extremely disappointed in the non-ending. I generally don't mind a cliff hanger but there was nothing. It seemed to move from climax to three weeks later without even feeling like the characters should have left the scene in the first place let alone without any sort of segway. I knew going into it that there were more books in the series but this felt too disjointed for me.
Would I read the next book? Maybe, if only to find out what happened… I wouldn't commit to it now. In fact, I don't have it saved. But if I find myself wondering about it later, then I might pick it up. However, until that day, it will be a pass for now.
3/5 Stars