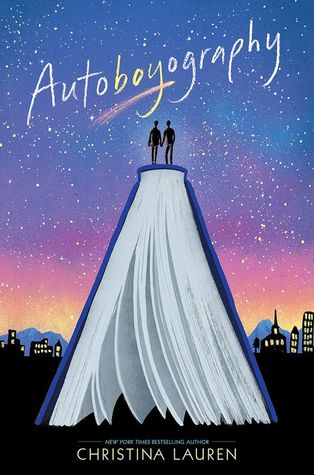 My first Christina Lauren book but it won't be my last. From the first page to the last, I fell for this book, AUTOBOYOGRAPHY. Christina Lauren navigates two worlds with such kindness and warmth that never once, does it feel like either side of this story demonizes the other.
This is a first love, coming out, learning who you are, reaching beyond those who would pull you down, beautiful, bring tears to your eyes kind of story. The pros are stunning. The layered aspects of the story within a story are subtle and they work.  It's heartbreaking at times and heartwarming during others.
I enjoyed this story and look forward to my next Christina Lauren novel.
Three years ago, Tanner Scott's family relocated from California to Utah, a move that nudged the bisexual teen temporarily back into the closet. Now, with one semester of high school to go, and no obstacles between him and out-of-state college freedom, Tanner plans to coast through his remaining classes and clear out of Utah.

But when his best friend Autumn dares him to take Provo High's prestigious Seminar—where honor roll students diligently toil to draft a book in a semester—Tanner can't resist going against his better judgment and having a go, if only to prove to Autumn how silly the whole thing is. Writing a book in four months sounds simple. Four months is an eternity.

It turns out, Tanner is only partly right: four months is a long time. After all, it takes only one second for him to notice Sebastian Brother, the Mormon prodigy who sold his own Seminar novel the year before and who now mentors the class. And it takes less than a month for Tanner to fall completely in love with him.