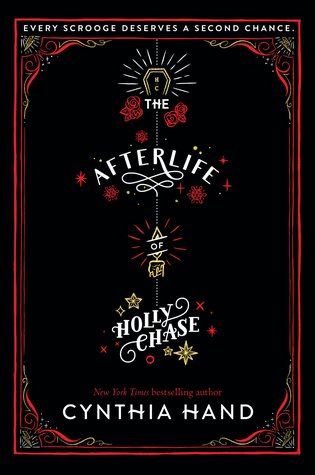 I've been having a rough time at work lately. It's been so bad that I find myself hiding in TV and books far more then normal. It's the escape from reality my heart and brain need. I was looking for something light hearted with a fresh and strong voice. I wanted to read something with a happy ending. I stumbled across this book, THE AFTERLIFE OF HOLLY CHASE and what made me want to read it was the comp-titles. It was described as "BEFORE I FALL meets "bah, humbug" in this contemporary YA re-imagining of A Christmas Carol." My friends would roll their eyes right now knowing that if there are two things I love it's A CHRISTMAS CAROL and anything Ground Hog's Day-esk. So I downloaded the audio book and dove in. Because it's my first Cynthia Hand book, I wasn't sure what to expect.
Up until the last chapter, I really wasn't sure hows this book was going to end. I could see it going one of three or four ways. I loved how Hand managed to keep the ending a surprise. The main character, Holly, is not likeable. Well, that's not completely correct. She is, but she's not a good person. In fact, she's horrible and despite her bad qualities, she still grows on you. I found myself rooting for her to change her ways, rooting for her to to become a better person, rooting for her to stop being the Scrooge we all know she is.
Despite the fact that it's Juneuary up in the North West, this Christmas tale was a welcome surprise. I know I'll read it again come the holidays and feel those warm and fuzzies all over again.