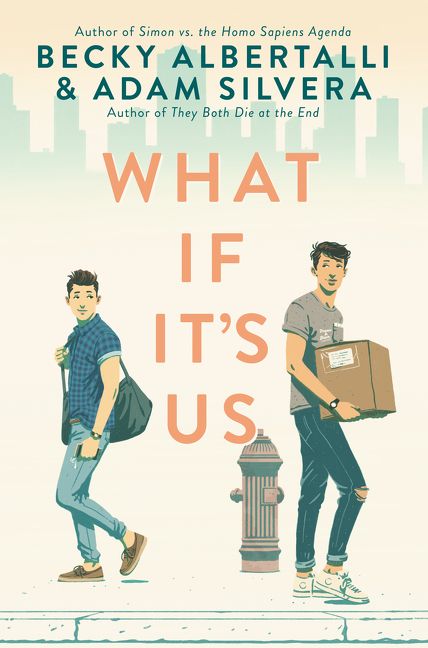 Becky Albertalli and Adam Silvera are my two favorite Contemporary YA authors. They've both individually written three amazing books I couldn't put down once picked up. Then magically earlier this year I found out they were pairing up and writing a book together, WHAT IF IT'S US. Side note, I pre-ordered this book on audible like a week ago and got it today. I listened to it all day. When I got home from work, I had a package in the mail, a physical copy of this book. My first thought was who ordered this for me? Who else knows I've been dying to read this? Hmmm… Convinced I didn't actually buy it but also needing to prove it, I check my Amazon account. Sure enough, I pre-ordered this way back in May. Go figure!
First, I have to say the sheer amount of nerdiness found in these pages makes me incredibly happy. From Harry Potter to Hamilton and a half dozen other musical references in the middle, this girl was smiling with every metaphorical turn of the page. Arthur's love for Lin Manuel Miranda is one I can relate to on a personal level.
What can I say without giving things away for this debut book? It's lovely from page one. The characters feel real. The way they address things, their emotions, the dialogue. It's one of the reasons Albertalli and Silvera are my favorite YA contemporary authors. It's a hard nut to get right and they are masterful every time. In the case of the narrators for the audiobook, they did an amazing job. It won't disappoint.
Arthur is only in New York for the summer, but if Broadway has taught him anything, it's that the universe can deliver a showstopping romance when you least expect it.

Ben thinks the universe needs to mind its business. If the universe had his back, he wouldn't be on his way to the post office carrying a box of his ex-boyfriend's things.

But when Arthur and Ben meet-cute at the post office, what exactly does the universe have in store for them?

Maybe nothing. After all, they get separated.

Maybe everything. After all, they get reunited.

But what if they can't quite nail a first date . . . or a second first date . . . or a third?

What if Arthur tries too hard to make it work . . . and Ben doesn't try hard enough?

What if life really isn't like a Broadway play?

But what if it is?